Cosmoprof Asia, one of the most prominent beauty trade shows in the region, is set to take place in Hong Kong from November 15th to 17th. MEICET, a leading provider of advanced skin analysis technology, is excited to announce its participation in this prestigious event. Led by CEO Mr. Shen, MEICET's team of sales professionals will showcase their star products, the MC88 and MC10 Skin Analyzers, along with their latest innovation, the D8 Skin Analyzer, featuring enhanced 3D modeling capabilities for more noticeable before-and-after treatment comparisons. Visitors are invited to explore MEICET's offerings at booth 3E-H6B.
Revolutionary Skin Analyzers on Display:
MEICET's MC88 and MC10 Skin Analyzers have gained recognition for their exceptional performance and accuracy in skin analysis. These state-of-the-art devices utilize advanced imaging technology to capture high-resolution images of the skin, enabling beauty professionals to assess various parameters such as hydration levels, pigmentation, texture, and pore size. With this comprehensive analysis, professionals can provide personalized skincare recommendations and track the progress of their clients' skin over time.
Introducing the D8 Skin Analyzer with 3D Modeling:
MEICET is proud to present its latest innovation, the D8 Skin Analyzer, at Cosmoprof Asia. This cutting-edge device takes skin analysis to the next level with its advanced 3D modeling capabilities. By capturing detailed 3D images of the skin, the D8 Skin Analyzer allows for more precise visual comparisons before and after treatments. This feature provides a clear and compelling demonstration of the effectiveness of skincare regimens, making it an invaluable tool for beauty professionals and their clients.
The Benefits of MEICET Skin Analyzers:
MEICET's Skin Analyzers offer numerous advantages for beauty salons and skincare professionals. By utilizing these advanced devices, professionals can:
1. Provide Personalized Treatments: The accurate and comprehensive analysis provided by MEICET Skin Analyzers allows professionals to tailor treatments to the specific needs of each client, ensuring optimal results.
2. Enhance Client Engagement: The visual representation of skin conditions and progress helps professionals educate clients about their skincare needs and encourage active participation in their own skincare journeys.
3. Track Treatment Progress: MEICET Skin Analyzers enable professionals to monitor the effectiveness of treatments over time, making adjustments as necessary to achieve the desired outcomes.
4. Stay Ahead of the Competition: By incorporating MEICET's advanced technology into their services, beauty salons can differentiate themselves in the market, attract more customers, and position themselves as industry leaders.
Visit MEICET at Cosmoprof Asia:
Cosmoprof Asia presents a unique opportunity to experience MEICET's innovative Skin Analyzers firsthand. Attendees can visit booth 3E-H6B to explore the MC88, MC10, and D8 Skin Analyzers, interact with MEICET's knowledgeable sales professionals, and learn more about how these devices can revolutionize their skincare practices.
MEICET's participation in Cosmoprof Asia brings exciting prospects for beauty professionals seeking advanced skin analysis technology. With the MC88,  MC10, and D8 Skin Analyzers on display, professionals can discover the transformative capabilities of MEICET's devices. Don't miss the chance to visit MEICET at booth 3E-H6B and explore the future of skincare analysis at Cosmoprof Asia in Hong Kong.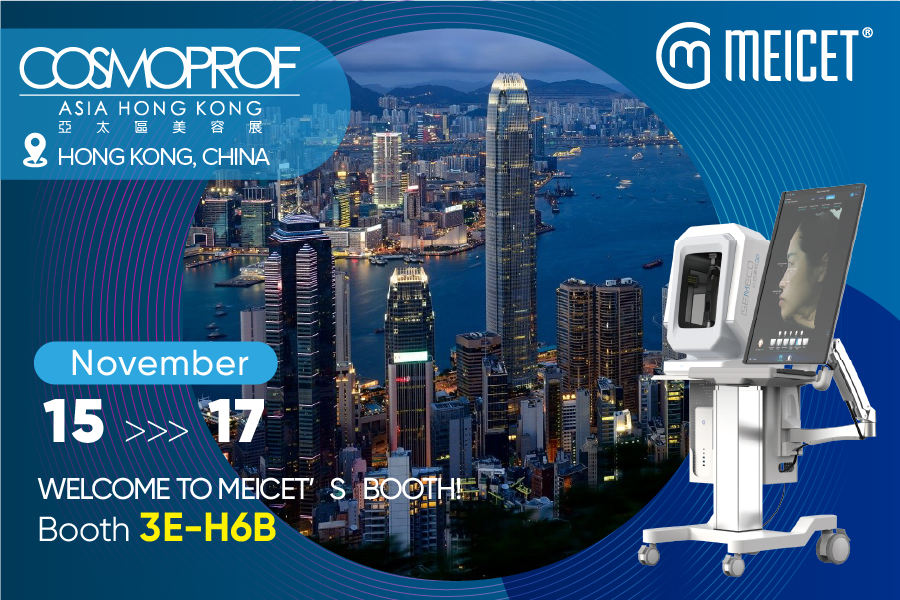 ---
Post time: Nov-09-2023